BECOME THE "TOP DOG" IN YOUR HOUSE
Developing a deep friendship with your dog is very difficult when they are chewing up your furniture, soiling your carpets, jumping uncontrollably or nipping at you. Our training methodology puts you in charge so you can move beyond bad behavior and begin to more thoroughly enjoy your relationship with your dog.

Snowdon says: "I've been having a blast thanks to my training! Obedience is fun and exhausting! I couldn't even stay awake to watch tv!" "WOOF!"
DOG TRAINING IS INSTINCTUAL AT PRECISION K-9
Our highly successful training process is based on pack psychology and how dogs instinctually learn – through trial and error. By using time-tested methods, the dogs we train learn much faster and are much less prone to lapse into old habits. We'll help you train your dog the basics or advanced....on- or off-leash!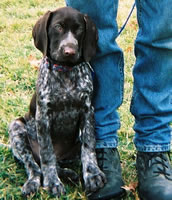 We implement a variety of techniques and methods to achieve results while making the training experience positive for both you and your dog.
We do not use raised voices or any harsh methods to train dogs. Our trainings is balanced and based solely on how dogs learn. We offer private lessons at your location, at our facility, board and train packages and group training.
Precision K-9 offers a broad range of training, including:
Obedience – We have group, lifetime and in-home training (very limited availability) that will address specific issues, basic house manners, basic obedience and advanced obedience. You'll enjoy the time you spend with your dog more than ever before.
Competition Obedience - Novice through Utility - as far as you want to take it!
Puppy Training – Establishing an excellent foundation allowing you to fully enjoy your puppy. Precision K-9's Puppy Class - 6 weeks long, an excellent primer for you and your puppy (email us for more info).
Training Camp – Training for three weeks in our home environment that includes free follow up for the life of the dog. This is where WE train the dog for you!
Behavior Modification – Addressing behavior problems such as aggression and separation anxiety by quickly identifying the cause and developing a training program that works for you and your dog.
Agility – a part of the Lifetime package-- a great way to have fun with your dog!
Recommended Reading/Authors: Monks of New Skete, Diane Bauman, Brian Kilcommons/Sarah Wilson, Gary Wilkes (especially on FB)...that's just a start. There is a lot of mis-information out there. Reader beware!